Finding the Breast Pump That is Right for You
By Maurenne Griese, RNC, BSN
Certified Childbirth and Breastfeeding Educator


One of the most common questions lactation consultants, breastfeeding educators and childbirth educators get is, "What breastpump would you recommend?" Having worked full and part time and nursed four children, as well as helped many women find a pump that works for them, I've listed the most helpful and comfortable pumps here and categorized them.

Rental Pumps
Renting a breast pump is a large investment in the long term, but some mothers believe breastfeeding may not work for them and are afraid to invest a lot of money, especially in the beginning. Keep in mind that a visit by a lactation consultant is far more important, helpful and worth the money. When there is a need, especially when there is a separation, I would suggest "The Classic" by Medela as the best choice, followed by the Medela Lactina.

The Pump in Style
The Pump in Style is a large initial expense for new moms especially who are unsure about breastfeeding. However, it is sturdy and great for long term usage such as for a mom going back to work, and can be used for additional children. It is very stylish and concealing, especially the new backpack. You can buy adapters for hands free pumping.
The Pump In Style Breastpump provides professional performance for today's active mothers. This is the only pump you can buy that features high performance and the appearance that busy mothers need.
The pump is stored in a stylish designer-look shoulder bag that can be discreetly carried wherever busy mothers need to go. The bag holds the fully automatic pump, a double-pumping kit, collection bottles and cooling elements to chill expressed milk.
Pump In Style's double-pumping option can be a great timesaver and also helps maintain milk production. Its automatic suck-release-relax cycle mimics baby's natural nursing pattern, and features adjustable pumping speed and vacuum within safe limits.
Pump In Style features these accessory products to make this pump more versatile and convenient: Manual Conversion Kit, CSFTM Starter Pack, PureLanTM 100 sample and a set or breastfeeding information sheets for mother's reference.
An optional PowerPakTM powers the pump with a rechargeable battery when electricity is not available. An adapter for use in a motor vehicle is also available.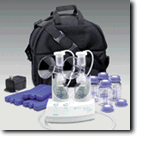 Ameda Purely Yours
The Purely Yours offers the utmost in flexibility and portability. This value-packed portable breast pump offers eight (8) adjustable suction levels and four (4) cycle speeds to create a stimulation that feels both natural and comfortable. It provides numerous variations to mimic baby's suckling, even as baby matures and grows.
It operates on three (3) power sources, including AC adapter, AA batteries, or optional car adapter. Weighing only one pound, Purely Yours fits into its own compact tote bag designed to hold the pump and all accessories while safely storing collected milk up to 10 hours in the insulated cooling compartment.
Medela Double Ease
The new DoubleEase Breastpump and CarryAll from Medela offer the convenience of double pumping for mothers who need to pump during short-term separations from baby. The DoubleEase has an advanced motor design for quiet operation, and features more convenient selective controls, enhanced ease of use, and complete portability. The mother's comfort is ensured with the pump's Autocycle™ pumping action, which simulates a baby's nursing pattern. Adjustable vacuum lets mothers set the pump to a level that is comfortable and within safe limits. The DoubleEase can be operated by electricity, or by two C batteries.
Ideal for moms on the go, the DoubleEase comes in a discreet, black CarryAll™ bag with an adjustable shoulder strap. The CarryAll features two storage compartments — one for the pump, accessory kit and transformer, and a second, insulated compartment which holds four breast milk collection bottles and three cooling elements (included).
Medela Mini Electric
The Medela Mini Electric Breastpump is perfect for short-term separations of mother and baby. It is lightweight and completely portable, so traveling is convenient.
Like Medela's electric breastpumps, the Mini Electric mimics the natural suck-release-relax cycling of a nursing baby. An adjustable vacuum allows you to select your own comfort level. For added versatility, universal threads on the breastshield allow the pump to be attached to any standard baby bottle.
The pump comes with a companion transformer that allows you to plug it into any electric outlet. Or power the pump with two AA batteries (not included). If electricity is not available or if batteries are low, the Mini Electric comes with a manual pump adapter.
The Mini Electric is dishwasher safe (excluding motor and transformer).
Nurture III Double Electric Breast Pump
The Nurture III is a small, quiet, efficient electric breast pump which can be used for double or single pumping. Five settings for suction control and user-regulated cycle time allow imitation of baby's sucking. Its light weight and compact design make it extremely portable and it is durable and reliable enough for many years of frequent use. The instructions are clearly illustrated and easy to understand. Includes: Nurture III Pump Motor, Double Collection Kit, and Instruction Manual.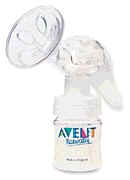 Hand Pump: Avent Isis One Handed Pump
The new Avent Isis Breast Pump is fast, gentle and quiet, and provides efficiency without the use of batteries or electricity. The secret is the combination of its soft cushion "petals" and silicone diaphragm which work together to mimic breastfeeding. The soft "petals" in the cushion massage the breast while pumping to stimulate a natural let-down reflex. The silicone diaphragm creates a vacuum like baby does while breastfeeding. These two design breakthroughs work together to help express more milk quickly and naturally. Each pump set includes feeding bottle, nipple and sealing disc.
Isis Stimulates Letdown
While breastfeeding, your baby latches on to the whole area behind the nipple (areola) and feeds using a suckling motion combining tongue, cheek and jaw. This suckling motion helps massage the breast to stimulate letdown. To imitate this process, the funnel of the Avent Isis Breast Pump has a soft silicone stimulator cushion with five "petal" massagers. The stimulator cushion fits snugly around the areola allowing the "petals" to flex in and out to massage the breast while pumping much as your baby's suckling motion does while breastfeeding which stimulates the letdown reflex
Isis Applies Reliable, Gentle Suction
The Avent Isis Breast Pump's silicone diaphragm works to gently draw the milk from the breast that has already been let down by the petal stimulation. The silicone diaphragm does this by creating a reliable vacuum while pumping which in turn causes a seal around the breast just as your baby does while breastfeeding. This creates such efficient suction that with each depression of the handle, a rhythm can be maintained and an even flow of milk expressed. The result is more milk with much less effort for you. And, the silicone diaphragm helps make pumping comfortable by allowing you to easily adjust the suction to your own comfort level by simply controlling the pressure of your fingertips on the handle.
An Efficient Combination
The Avent Isis Breast Pump's design breakthroughs all work together to make it a fast, gentle, and efficient breast pump for everyday use. And the Avent Isis Breast Pump is effective in another important way. It is quiet, giving you the ability to pump discreetly anywhere. All of which means you can have the freedom you need to continue breastfeeding for as long as you choose.
The control you have with the hand pumps can make all the difference. They are very inexpensive, lightweight, portable and there's no need for plugs or batteries. Many moms buy two for double pumping and it is still a substantial savings over the electric pumps. Pumping is a learned art in any case.
The Avent Isis is great for stay-at-home-moms, moms working part-time, to relieve engorgement, nights out, inverted nipples, etc. Moms with carpal tunnel problems or weak hands may not do well with hand pumps. They may not be ideal for full time employed moms. Avent's pump can not be used with the standard size bottle. You have to purchase and use the Avent bottles which are expensive and not universal. You can get around this by simply using your bottles on hand for storage and just pumping into the bottle provided.

There are others on the market but I think they are far inferior, especially ones made by formula companies. Medela's hand pump is too cumbersome and takes too many hands to use.
Links for More Information:
Avent America For more information on the Avent Isis
Bailey Medical Products For More Information on the Nurture 3 Breast Pump
Hollister For more information on Hollister Breastfeeding Products.
Medela For more information on the Medela Classic, Pump In Style, Mini-Electric and Double Ease Pumps.